Dental Crowns and Veneers
Losing or damaging a tooth or having misshapen teeth doesn't mean your smile has to suffer. At Beyond Smiles we offer a range of natural-looking crowns and veneers to ensure your teeth look and feel great. We can even give you a new lease of life by boosting your confidence with the promise of a perfect smile.
Our high-quality crowns and veneers are available in an unlimited range of shades to ensure the most natural-looking smile, and are fitted by our expert team of dentists, using modern techniques to preserve your natural teeth.
What is a Dental Crown?
Crowns are discreet facings that are bonded to natural teeth to improve appearance or strengthen those underneath. They can be used for cosmetic improvements or to replace teeth that have been heavily filled or have undergone root canal treatment.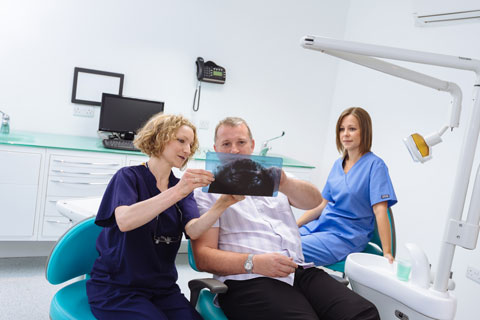 Whilst crowns and veneers are often used to replace natural teeth that have been damaged, veneers can also be used for cosmetic purposes to straighten, brighten and whiten your smile. Once fitted, crowns and veneers are indistinguishable from your natural teeth and work, bite and chew just like them.
How long does it take to fit a Crown?
Having a crown or veneer fitted is a simple, comfortable two-stage process.
Stage One:
On your first visit to us, our dentists will very carefully reshape your natural teeth to ensure optimum strength. We will then take a mould of your teeth and take photographs, to ensure the fit and aesthetics of your new crown or veneer are perfect. Next, we will apply a temporary crown or veneer to make sure your teeth look good while your new crowns or veneers are being carefully and skillfully hand-made by our master technicians.
Stage Two:
At your follow-up appointment (usually a week or two later), the superior quality crown will be permanently bonded to your natural teeth, on your approval of its final appearance. Your new, brighter smile will then be complete for you to enjoy.